Are you looking for a new companion?
View our featured pets and all our animals ready for adoption!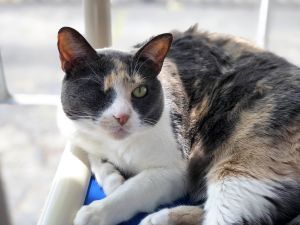 My coat is just gorgeous, and my markings unique. I like my freedom and if you do too then our independent natures should be a perfect match. I am friendly when I feel like it, and aloof when I feel like it, too. You know how us Calicoes can be. I do like to have things my own way, but then, who doesn't? If you feel like you get me, I bet I can feel it too!
Adult, Female, Large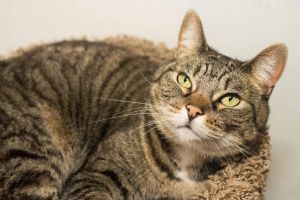 Ah, Gracey! Our fabulous feisty gal. She is one big brown bear of a tabby and takes no guff from the kittens and puppies, even telling off our big tuxedo boys, when necessary! If you are looking for a low-maintenance watch cat, a girl who likes toys and likes to play but also likes her time alone to stand guard over all goings-on please consider adding beautiful Grace to your home! This girl has lots of admirers and is a sweetie, but since she doesn't have tons of patience for those who don't understand her periodic need for "alone time", she's not a good choice for homes with children.
Adult, Female, Large