Are you looking for a new companion?
View our featured pets and all our animals ready for adoption!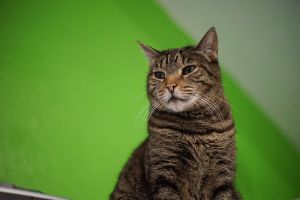 Tremendous tabby Camille loves to lounge in the sun and is never late for dinner. Affectionate, playful, smart and just the most delightfully bit sassy she is seeking a loving home with plenty of treats! Please note that our girl is FIV+, but she's very healthy. She'd do best in a home where she can be an only kitty, with other FIV+ kitties or with non-aggressive cats. (NOTE: FIV cannot be transmitted to other animals or humans: it is only a concern between cats, and even so is primarily passed through blood, not saliva or air; so most FIV+ cats can expect smooth and happy adoptions, just like our other cats!)
Adult, Female, Large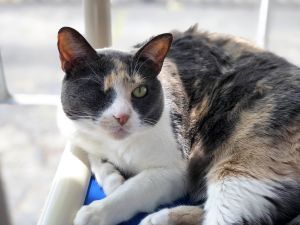 Our beautiful one eyed pirate girl Moxie is incredible. As she is special needs/visually impaired kitty she's looking for a special home and because she is picky not everyone will do! This dilute calico is an independent and sassy lady who knows what she wants and what she wants is a nice, quiet calm house where she can take her time to shine. Affectionate with those she likes and aloof with those she doesn't Moxie would not thrive in a loud home. Ideally she would love to be your one and only, but if you have friendly other cats she'll likely share you peacefully. She may not be an easy cat, but she'll make every effort you make worth while. Come in and meet our one of kind feline for yourself.
Adult, Female, Large